Suboxone Detox Center in Atlanta, GA
Opioid overdoses took 73,102 lives in 2021 in the United States. There is no denying this dose of reality. To address opioid abuse, many treatment centers use suboxone to curb cravings and treat addiction. Approximately 1.7 million people in the U.S. rely on suboxone.
Is this recovery? Or was one addiction swapped for another? Suboxone addiction is not a joke. Our suboxone detox center in Atlanta, GA, can help you determine whether or not suboxone use is correct and safe for you.
If you or a loved one is stumbling in addiction limbo, our addiction recovery center wants to help hang up the crutches. This time you will walk free into full recovery. Solid ground awaits at our rehab center in Georgia.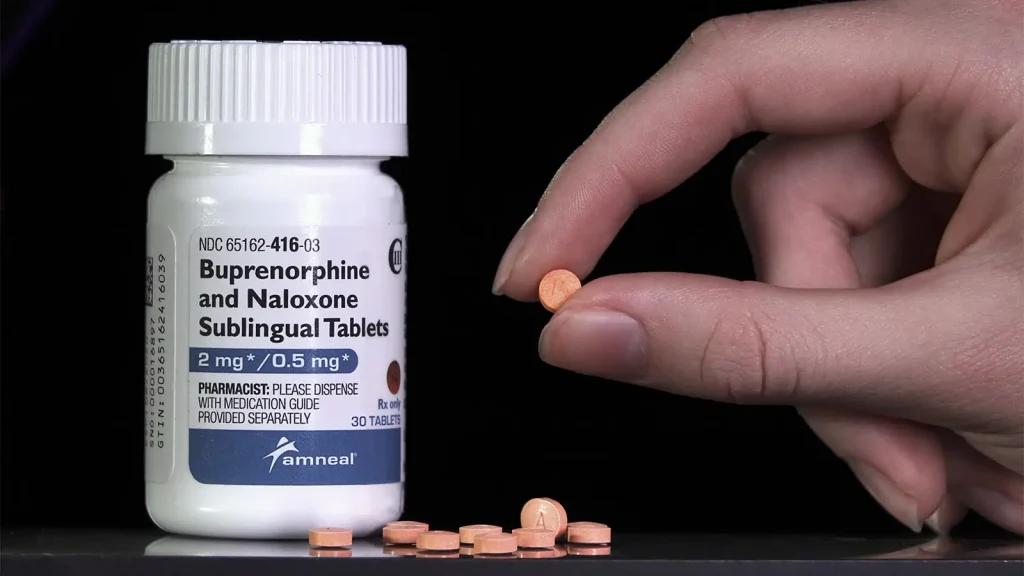 What is Suboxone?
Suboxone is a combination of buprenorphine and naloxone. It's a prescription narcotic that treats addiction to other narcotics. Medication-assisted treatment (MAT) often uses this drug as a first-line treatment for opioid addictions.
The magic cure has some cracks, however. Studies show that taking suboxone for opioid addiction may lead to dependency on the drug itself. It makes getting off opioids easier in the short term. But it also creates another dependence due to its similarity to opiate drugs.
How Suboxone Affects the Body
Buprenorphine, one of the main ingredients in suboxone, is a partial opioid agonist. It triggers the same brain areas as opiates. This happens at. a much lesser degree than heroin or painkillers, but on its own, it mimics potent opioids by binding to receptors. The other ingredient is naloxone. Naloxone blocks how opioid drugs make you feel, causing a person to begin experiencing withdrawal immediately. Opioids are no longer enjoyable.
Is Suboxone Detox Necessary?
If you keep taking suboxone, you leave the door open to a risk of relapse. The drug is not as addictive as it treats, but your mind can also depend on suboxone.
Are you ready to make a clean break and hang up an unplanned habit? The good news is treatment options for suboxone exist. Southeast Addiction Center's tailored treatment plans stand out for a reason.
Due to the common ground, it shares with opioids, the ideal way to detox soundly is in a medical setting with medical professionals. Suboxone is labeled as a Schedule III substance. This means it is available by prescription only and can cause dependence. Stopping the narcotic can lead to withdrawals which can be unpredictable. Our suboxone detox keeps you secure.
Why Choose Suboxone Detox in Atlanta, GA
The opioid epidemic started over 20 years ago. As the years pass, the need for recovery grows. Many of these individuals take suboxone as part of their maintenance plan. Much misuse and abuse have happened since it first arrived in pharmacies in 2002.
Southeast Addiction Center won't dismiss or categorize suboxone dependence as "less serious" or not as urgent. Studies have shown that:
63% reported they use suboxone illegally to abstain from other drugs.
A third of people stated they use the drug to cope with mental health issues.
Half of the study sample indicated that their motive for misuse was pain relief.
15% said suboxone was cheaper compared to other drugs.
There are no healthcare guidelines for how long to prescribe suboxone. There is a lack of research available for ongoing usage. Because of this, it is critical to seek help if you or a loved one feel that your suboxone use has become out of control.
Risks of Ongoing Suboxone Use
Opioids cause extensive short and long-term health effects. Taking suboxone for a long time can cause mild or significant side effects. Knowledge gaps exist for suboxone, so you must undergo a proper detox when you stop.
Common side effects of prolonged suboxone use:
Anxiety and Depression
Pain Sensitivity
Weakness
Nausea, Drowsiness, Confusion, and Vomiting
Damaged Relationships
Constipation or Digestive Problems
Trouble Focusing
Harm to the respiratory, heart, and circulatory system
Suboxone Addiction
There are more dangerous effects that are less common but exist:
Assorted liver issues and even liver failure
Coma
Dental issues like tooth decay, cavities, and infections
Hormonal imbalances that can turn into Addison's Disease
Slowed breathing develops into brain damage from a lack of oxygen (hypoxia).
Low blood pressure from movements like standing up
Ingredients that cause allergic reactions
Southeast Addiction Center is ready to restore your life. The first step to getting better is a medical detox cleanse to purge the effects of opioids that remain.
Why Choose Us for Suboxone Detox?
Our programs use the most effective elements of evidence-based care, focusing on your well-being. These include behavioral therapies, health-driven practices, group and individual sessions, and aftercare.
We give the most individualized treatment possible:
Small/intimate group sizes
2:1 client-to-staff ratio (direct client care staff)
Small clinical caseloads
Our Staff
It's all about the people and the program at Southeast Addiction Center. Our recovery center clinical team ensures you receive the best care Georgia offers. We are non-judgmental and client-centered, with a shared passion for lasting results in recovery.
In-Network Coverage
You won't have to deal with complicated healthcare insurance. Our admissions team knows how to get the most out of your coverage. They can also decide the best payment plan for your treatment process.
We accept the following in-network coverage providers:
BCBS
VA (OptumVA)
Tricare
Friday Health Plans
Our Accreditations
We maintain our Joint Commission accreditation. This yearly evaluation is one of the ways we show our dedication to care that is a cut above the rest. We are licensed in Georgia. Our team holds an array of accolades specific to their areas of expertise.
Our Amenities
We offer different amenities to make the process as smooth as we can. A few of these include:
Transportation to safely go where you need to
New offices and a clean, modern facility
Convenient location near Hartsfield-Jackson International (Atlanta Airport)
Sober living housing for relapse prevention with semi-private rooms (within minutes from clinical)
Like with other opioid drugs, people who stop taking suboxone abruptly will experience both physical and psychological symptoms. First, we'll look at some physical withdrawal symptoms. These symptoms tend to appear 6-12 hours after the last dosage and can include:
Our Approach to Suboxone Detox
Suboxone detox is like many other drug addiction treatments. Medical detox is the first crucial step for suboxone treatment. After the withdrawal stage, your care team will work with you to customize your plan. We have treatment options that suit your needs.
It's normal to feel confused or conflicted about starting recovery. You're told suboxone is the "cure" or a positive tool by medical professionals. Suboxone addiction is kept quiet, but it is very real.
Evidence-Based Therapies
Individual therapy is when you work on building a better relationship with yourself. You learn more about your addiction and how to set healthy boundaries.
Group Therapy is where you experience the social part of recovery. Peer guidance in a positive setting is empowering. You build camaraderie with others who relate to drug rehab.
Family Counseling is offered onsite and virtually. This family affair helps rebuild relationships with your loved ones.
Cognitive Behavior Therapy (CBT) is a popular and effective therapy for opioid-related recovery. You work with your therapist to spot triggers and apply coping skills and other relapse-prevention strategies.
Dialectical Behavior Therapy (DBT) guides you to learn and build strategies that change your negative thoughts about addiction and detox from suboxone and other stressors.
Motivational Interviewing (MI) is positive reinforcement that guides you through overcoming mixed feelings about why you're stopping suboxone. This therapy builds your desire and confidence.
Our Suboxone Detox Treatment Programs
You are no stranger to recovery. If you went through the withdrawal process of opioid use in a detox program, this isn't as severe. You're still dealing with a partial opioid drug. Trying to go it alone by tapering or quitting "cold turkey" does not work often. Individuals who stop taking suboxone abruptly will experience physical and mental symptoms.
Our Inpatient Suboxone Detox
This is your last time going through a withdrawal process for a substance use disorder (SUD). Our professional care team wants to make it as comfortable as possible. Medication-assisted treatment (MAT) reduces cravings and the risk of suboxone or opioid relapse.
Our team fosters the right setting to purge toxins. We all react in different ways to substances. Suboxone is not exempt from this. You might have physical or mental health problems you weren't aware of. It is advised to continue treatment after medical detox. We're by your side each step of the way.
Withdrawal Symptoms of Suboxone
Physical withdrawal symptoms appear 6-12 hours after the last dosage and can include the following:
Hot or cold sensations all over the body
Fatigue that results from the metabolic work the body does during withdrawal
Muscle cramps and aches in various parts of the body
Insomnia and restlessness
Drug cravings, whether physical or in your mind
Heavy sweating from dehydration
Loss of appetite
Nausea, vomiting, and generalized abdominal discomfort
The psychological symptoms are more challenging to manage for many individuals. Some of the most common symptoms include:
Mood swings kick in once the brain stops receiving the high amount of dopamine suboxone creates.
It is natural to feel moody, anxious, or depressed when you stop taking suboxone. Always stay aware of how your mental health is faring. If symptoms get worse, you're in the right place to help.
Underlying co-occurring disorders can also show up during suboxone detox.
Suboxone withdrawal symptoms range from uncomfortable to unbearable. The possible danger is why medically supervised detox is advised.
What to Expect in Suboxone Detox
The amount of time you spend in detox depends on the specifics of your dependency. The suboxone withdrawal timeline is unique compared to other opioids.
Suboxone acts slower than other opioids. Withdrawal symptoms take longer to show up. The peak of initial withdrawal occurs three to five days after the last dose. The initial withdrawal resolves within a week or two.
Mental health symptoms of detoxification, such as depression and difficulty experiencing pleasure, can persist for weeks or months following this step. During detox, you will have a team who understands this process and uses specific methods like medication-assisted treatment (MAT) to control unwanted side effects as much as possible.
Medication Management for Withdrawal
More medication? We know that medication is not the sole solution. We use non-addictive FDA-approved (Food and Drug Administration) medications. Studies show that specific medications and behavioral therapies produce the best long-term results. We do not use methadone in our MAT for opioid addiction.
Consistent MAT lowers the risk of a fatal drug overdose by 50%. 90% of clients who use MAT maintain sobriety for two years or longer. These are not a replacement for a balanced treatment program. Your team will help decide what medications suit your needs.

Select medications can include:
Naloxone is a non-opiate, FDA-approved medication. It only blocks the effects of the opiate receptors, unlike suboxone. It doesn't contain opioid properties like buprenorphine. If you take it as prescribed, you will not relapse.
Naltrexone lasts longer than naloxone. It prevents cravings and urges by binding to the opiate receptors in the brain and blocking them.
Lucemyra is an FDA-approved medication that treats withdrawal symptoms. It blocks the release of some of the effects. The medication is approved for a maximum of 14 days.
Antidepressants like bupropion (Wellbutrin) manage symptoms of mood swings like depression.
Our core programs involve various types of therapy. Our different options accommodate your lifestyle and needs.
Outpatient Opioid Treatment Programs 
Our outpatient programs are designed to promote lasting recovery. Our popular outpatient programs do not need overnight stays at a treatment center. We focus on your toolkit against triggers and cravings. You build on the skills you started in addiction treatment. You gain life skills and apply these to daily life. Our integrated plans leverage our medical team.
Outpatient matches your motivation with our dedicated clinicians for your successful outcome. Doctors, drug abuse counselors, therapists, and social workers are all part of outpatient.
Intensive Outpatient Program (IOP)
We offer our intensive outpatient program (IOP) that uses the most effective therapies, counseling, and practical skills. You collaborate with your care team, including addiction therapists, doctors, and mental health advocates.
The benefits of IOP include:
The made-for-you approach addresses all elements of your addiction.
Flexibility to fit your schedule. We offer morning IOP and evening IOP.
No overnight stays and 3-5 days a week in IOP.
Lower cost compared to inpatient rehab.
Partial Hospitalization Program (PHP)
You're in the right place if you need a care level above IOP. You receive medical and clinical support to navigate complex conditions. Our partial hospitalization program (PHP) is a rigorous outpatient program. We suggest PHP before starting IOP. This is a high-intensity, daily program. It requires 30 hours each week.
Standard Outpatient Treatment Program
This is the least restrictive level we offer. It's the final official step at Southeast Addiction Center. This program focuses on behavior changes tied to substance misuse. To keep your health in harmony, we provide aftercare and relapse prevention.
Individuals ending drug use need thorough follow-up care and relapse prevention maintenance plans. You plan how to manage life and stay sober from suboxone and opioids.

Your aftercare plan might include the following:
Sober living housing
12-step meetings
Counseling or group therapy
Connecting with a sponsor or mentor
We offer sober living as a part of aftercare. Your determination has taken you far, and you want to protect this. A stable and affirming living space makes this easier. Enjoy the vibrant cityscape of Atlanta through a sober lens. Our housing is a safe, modern space with semi-private rooms. The structure and bonding with others in recovery make a huge difference.
Other Treatment Programs Available
If you need a more controlled program after detox, we can't wait to help you. We offer extra levels through our network of trusted partners.
Inpatient or residential treatment makes sense if your addiction requires detox. You live onsite and don't have to deal with any temptations of using again or figuring out what's next.
Your Suboxone Recovery Starts in Atlanta
If the cure isn't magical anymore, we understand. There's help beyond suboxone. A happy, healthy life can still be yours. Don't let stigma keep your need for help in the shadows.
We have your prescription for true sobriety. We're here 24/7. Give us a call at (888) 981-8263. If you prefer to email, reach out at info@southeastaddiction.com.
Get the help you need now
We are

Here for you.
If you or a loved one need help, we are available to guide you through every step of your recovery. Call us today and speak with a recovery counselor to get started.