Fentanyl Addiction Treatment Center in Atlanta, GA
Fatal and non-fatal fentanyl overdoses in Georgia continue to rise — a 230% increase in overdose deaths. Atlanta sits in the crosshairs of this crisis. Our fentanyl addiction treatment center in Atlanta, GA, is on the front lines.
The manufactured threat keeps adding pages to a tragic tale of addiction. Its original purpose of treating severe pain has taken a backseat. Now it inflicts pain through drug addiction.
Fentanyl is one of the most feared and addictive drugs in existence. Southeast Addiction Center in Atlanta will help you enter addiction treatment and the road to long-term recovery.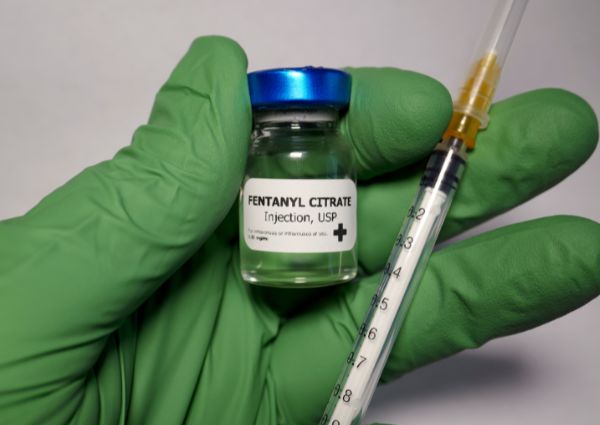 What is Fentanyl?
Fentanyl is a synthetic opioid painkiller. It's in the same family as morphine, heroin, oxycodone, and many other pain-reducing drugs. The narcotic packs a punch 100 times morphine's strength. It is 50 times more potent than heroin. The drug has gone from prescription to a feared poison.
Used in medical settings, the prescription drug manages severe pain. This is the type of pain after major surgery or cancer treatment. It's a welcome salvation for individuals suffering from immense pain. The drug also has a high that creates euphoria, relaxation, and disconnect.
This rewarding feeling makes it addictive for some individuals. Hospital patients take the pills as an escape from nonstop pain. Many individuals don't think anything of the pills their doctor prescribed.
The narcotic plays double duty. It blocks the brain from feeling pain signals and boosts dopamine production. Dopamine is the body's "pleasure" chemical. Continued fentanyl misuse alters the brain's chemistry.
Illegal powdered fentanyl is a unique threat on its own. You can snort it, smoke it, or inject it. Without realizing it, you can quickly consume too much. Mexican cartels produce the narcotic in mass amounts to smuggle across the border. The drug then travels through trafficking hubs like Atlanta.
Our addiction treatment center understands how quickly it can occur. We also know the stigma that fentanyl addiction carries. Our customized treatment plans reflect your unique needs, including difficult emotions affecting your mental health.
The Dangers of Fentanyl
Fentanyl is the single deadliest drug ever encountered. These are the words Anne Milgram, administrator for the DEA, used to describe the drug. She reiterated no community is safe from the poison. What exactly makes it so feared?
2012 a disturbing trend emerged in fentanyl overdose (OD) deaths. This is the year fentanyl fatalities started to rise. The number of lives claimed has gone up each year. A decade later, in 2021, fatal overdoses were 26 times higher.
The insidious nature of the substance makes it ideal for cutting or "lacing" other drugs. The CDC states two milligrams can be lethal, depending on your body size. This looks like a few crumbs. Dealers mix illicitly manufactured fentanyl (IMF) with heroin, methamphetamine, or cocaine.
In 2022, 107,375 individuals lost their lives to overdoses and poisonings. Over half, 67%, of the deaths involved synthetic opioids. The majority of users likely had no idea they were taking it.
The more a person uses (whether they're aware or not) fentanyl, the more the brain is altered. It undergoes a neurochemical transformation.
Taking back control can save your life. We treat fentanyl addiction with extreme care. Our clinicians stay on top of the latest methods and developments.
How Prevalent is Fentanyl Dependence?
One person in America dies from fentanyl poisoning every 8.57 minutes. It's fair to say calling it a national epidemic is accurate.
In 2019, 269,000 individuals ages 12 or older misused prescription fentanyl. This is only reporting on prescription fentanyl. Illegal fentanyl manufactured in hidden laboratories is as common.
In 2021, out of the general population, 73% of life-ending overdoses involved IMFs. For young adults aged 15 to 24, this number hit 84%.
Once tolerance develops, the drug tightens its hold. Your system expresses displeasure if you don't use or try to cut back. It does this by sending out unpleasant to unbearable withdrawal symptoms. Using more of the drug is the "fix" for these signals.
A more permanent cure exists. You'll find this at our recovery center in vibrant Atlanta, Georgia. Our addiction treatment center is modern and accommodating. We're located close to Hartsfield Jackson Airport (Atlanta airport). Our clinicians go the distance for you. This comprises therapists, doctors, mental health advocates, counselors, and staff.
The Impact of Fentanyl in Georgia
Most drug seizures in the eastern U.S. have traveled through Atlanta. In 2021, overdose deaths among young people in Georgia hit 800% compared to the prior year.
Overdose deaths from fentanyl in Atlanta and nearby counties have increased.
Here are some of the communities impacted:
Fulton County lost 150 lives to overdose in 2021.
Cobb County reached more than 100 deaths.
DeKalb County ranked third with 80 fatalities.
Georgia endured 1,400 overdose deaths in total.
Southeast Addiction Center is ready with proven evidence-based and wellness interventions.
Why Getting Help for Fentanyl Addiction Matters
Fentanyl steals your freedom before you realize it. Our rehab has answered Georgia's call for help. We're in the eye of the opioid storm. This gives us a unique advantage at the forefront of delivering effective treatment. We are here for those seeking shelter from the storm.
Signs and Symptoms of Fentanyl Addiction
Fentanyl use disorder shares many similarities with its opioid family. Starting to abuse fentanyl displays itself in various ways.
Physical symptoms of abuse can include:
Incredible euphoria
Pain relief
Drowsiness
Itching throughout the body
Slowed heartbeat and breathing
Constipation, cramping
Nausea and vomiting
Dizziness, disorientation
Seizures
Behavioral symptoms can look like this:
"Doctor shopping" in an attempt to gain multiple prescriptions
Forging or altering drugs to get fentanyl or other opioids
Declined performance and absence at work or school
Spending increasing amounts of time obtaining, using, and recovering from using
Mumbled and slurred speech
Continuing to abuse fentanyl after it starts to cause problems in your life
No longer taking care of daily responsibilities, neglecting relationships.
The risk grows with continued drug abuse. The symptoms increase over time.
Consequences of fentanyl abuse can include:
New or amplified mental illness symptoms emerge
Suicidal ideation
A lack of oxygen in the body's tissues, known as anoxia
Chronic stomach and digestive issues
Legal interactions due to risks taken to obtain fentanyl
Broken relationships
Being fired from work or expelled from school
Homelessness
Sexually transmitted infections from needle use like HIV/AIDS and hepatitis C.
If you want off this cycle for good, we can help you stop and stay stopped most safely and comfortably possible.
What is Fentanyl Withdrawal Like?
Fentanyl will not leave without a fight. The detox process is anything but fun. Our fentanyl addiction treatment program caters to providing you with personalized attention and expertise.
Withdrawal symptoms can show up as:
Cravings for fentanyl that won't let up
Insomnia, racing thoughts, anxiety
Chills, cold sweats, vomiting, sweating
Diarrhea, nausea, fever
Achy muscles and body pains
The risk of overdose is present each time you use the synthetic opioid. Calling emergency services is the first step if you see a possible overdose.
Overdose hits fast with signs such as:
Slurred speech, struggling to speak
Confusion
Slipping in and out of awake or consciousness
Unable to talk and think normal
Cold and pale skin
Intense dizziness, not being able to move
The only thing that can stand between an overdose is naloxone (Narcan). This isn't a guaranteed defense. Fentanyl is so strong that it might need multiple doses to work.
Why Choose Southeast Addiction Center for Fentanyl Rehab
We have been on the frontlines of this nightmare since it arrived in Georgia. This has allowed us to refine our methods. We manage your treatment with five-star standards. We maintain our accreditation by the Joint Commission as part of this commitment.
Our team works hard to deliver unmatched service you won't find at your average rehab. We don't say it; we show it. Our small clinical caseloads have a 2:1 client-to-staff ratio.
From detox to outpatient, we are by your side. Our online reviews and recovery stories inspire us on our mission.
How We Treat Fentanyl Addiction
Our treatment center in the heart of Georgia uses the top methods for long-term sobriety. We provide this in a warm, positive environment. You and your treatment team will determine what your blueprint looks like.
Medication-Assisted Treatment
The FDA has approved certain non-addictive medications to treat opioid dependence. Medication-assisted treatment (MAT) lowers cravings and other withdrawal side effects. Many studies show MAT is effective with a total treatment program.
Talk Therapy
We have a toolkit of the most optimal evidence-based therapies. You learn a lot from talking (and listening).
Motivational Interviewing (MI) explores your uncertainty about change. This is a non-confrontational approach that builds confidence in recovery.
Group Therapy is a guided session that connects you with your peers. You gain insights from shared experiences. You'll improve your social skills and communication with others.
Individual therapy sessions take place between you and your therapist. You work through the personal aspects of your meth addiction. You can focus on facing your challenges sober.
Cognitive-behavioral therapy (CBT) identifies unhealthy thought patterns and gains insight into your actions. This enhances your awareness of how factors can impact your recovery.
EDMR Therapy
We treat fentanyl abuse with a therapy called eye movement desensitization and reprocessing (EMDR). It utilizes sensory stimulations like eye movement to address past trauma.
Holistic Therapy
Holistic therapy is another way we treat the whole of you, not just specific addiction-related symptoms. These wellness activities center on mind, body, and spiritual well-being. These blends allow them to achieve balance and develop coping skills.
Some of the holistic services we offer include:
Guided meditation
Yoga
Therapeutic fitness classes
Chiropractic care
Nutritional classes
Nature activities
Our Fentanyl Addiction Programs in Atlanta
Our inpatient and outpatient treatment plans cater to each person's unique needs and goals. This individualized approach is empowering and respectful.
Medical Detox
This is the safest starting point for fentanyl addiction treatment. Detox programs purge the toxins from drug use. Our medical team monitors how you're doing 24/7 and does everything they can to make it as stress-free as possible.
Partial Hospitalization Program
This immersive outpatient program bridges the gap between rehab and the real world. Mental health support is a big part of PHP. Daily attendance of up to 30 hours a week is rigorous. It's also rewarding when you go to your home at night.
Intensive Outpatient Program
IOP is a less restrictive program than PHP. You get the same access to our clinicians, medication management (if needed), and lots of therapy. Transformative wellness activities balance this harmoniously: group and individual treatment rounds out our outpatient plans.
Continuing Recovery in Sober Living
We offer sober living homes as part of aftercare for relapse prevention. Sober living builds a stable, accepting environment free of drugs and alcohol. Our housing provides 24/7 support and access to valuable life skills. These resources include job training and educational advancement.
Get the Help You Deserve for Fentanyl Addiction
One pill can kill. One call can change this. If you or a loved one is ready to break free from fentanyl, we can help. Reach out before it's too late. Contact our team at (888) 981-8263 or email us at info@southeastaddiction.com.
Get the help you need now
We are

Here for you.
If you or a loved one need help, we are available to guide you through every step of your recovery. Call us today and speak with a recovery counselor to get started.