PHP Rehab near Atlanta, GA
The Partial Hospitalization Program (PHP) in Georgia is designed around emulating a realistic setting for those coming in for treatment. We know that our patients come from many different circumstances. Because of that, we pride ourselves on giving each person a customized treatment plan that will fit in with their specific needs to sustain recovery.
Therapy sessions and groups are an essential part of recovery. At Southeast Addiction Center, we hold sessions daily due to this fact. The sessions held at our PHP rehab center near Atlanta, GA, focus on providing a more intimate setting for therapy. We also offer gender-specific groupings.
Clients involved in the PHP must attend several hours of group therapy sessions daily. Because this is an intensive program, the patient must have undergone a medical detox to achieve the initial stability required to benefit from therapeutic work.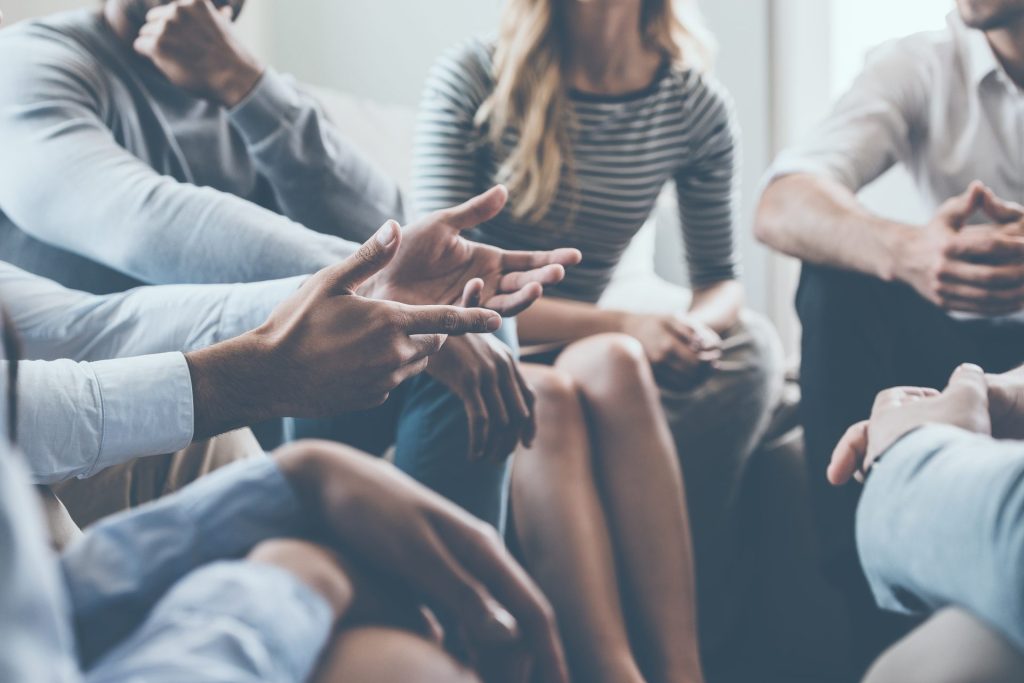 Benefits of PHP Rehab in Atlanta, GA
Since PHP is an outpatient level of care, sessions meet from 9 am to 4 pm Monday through Friday. This day treatment creates structure around the clock while allowing for a more affordable option than a residential treatment program.
Our PHP is designed explicitly with individualized addiction treatment plans for each client, including one-on-one therapy, case management, and 12-step program immersion, so our clients have the tools they need for long-term sobriety.
Our clients can also expect the following benefits during their day program:
Comprehensive Treatment: Even though our clients return home after treatment, the level of behavioral health we provide doesn't change. You will receive evidence-based therapeutic services, including cognitive behavioral therapy (DBT) and cognitive behavioral therapy (CBT).
Supportive Environment: Our team of healthcare providers understands the ins and outs of substance abuse and mental health treatment. Some members of our staff are in long-term recovery. They can help clients in a unique way that not all clinicians can do.
Flexibility and Individualized Treatment: Meeting the specific needs of our clients is essential to recovery. Our flexible scheduling options allow you to maintain personal commitments while receiving the needed treatment.
Continuity of Care: PHP rehab programs in Atlanta, GA, often have strong connections with other levels of care, including inpatient facilities, intensive outpatient programs (IOP), and outpatient services. This allows for seamless transitions between the different levels. We can ensure individuals receive continuous treatment as they progress through recovery.
Holistic Approach: This therapy is an alternative treatment service that focuses on the whole person, not just specific addiction-related symptoms. Our therapists consider our clients' physical, emotional, mental, and spiritual well-being, allowing them to achieve balance and develop coping skills.
PHP Rehab Services
Evidence-based practices for addiction are beneficial because they provide a framework for treatment. The Substance Abuse and Mental Health Services Administration (SAMHSA) has studied, evaluated, and approved these practices to help individuals recover from addiction.
Our goal is to get to the bottom of addictive reactions. Once we do, we help our clients cope without substances for long-term recovery.
Individual Therapy
Individual therapy is vital for those in recovery to have. One-on-one therapy time can be used to discuss any issues you face with professionals who intimately understand what you are going through. You can discuss how the treatment progresses, the lifestyle difficulties you are experiencing, the temptation to relapse, etc. Anything you wish to discuss privately that you feel reluctant to mention in group therapy can be discussed here.
Group Therapy
In group therapy, individuals can come together and share similar experiences with battling addiction. Listening to others discuss their struggles during group sessions can be a potent reminder that you are not alone. An essential function of group therapy is showing that everyone has different triggers. With the help of a skilled group therapy coordinator, a great deal of meaningful discussion and personal revelation can be had within groups.
Family Sessions
Addiction does not stop with the individual. It is systemic. It affects every part of that individual's life: work, school, friends, and family. The impact that addiction has on the family system is valuable. We at Southeast Addiction Center Atlanta understand that family therapy is just as crucial as individual treatment.
There are forms of support that only family can offer, but that can only be achieved if they are appropriately coached on what truly will help and what will only enable their loved one further. We are always available to family members for in-person or online consultation so that they can stay in the loop on their loved one's progress.
Medication Management
Because addiction is often accompanied by other comorbid conditions such as depression or anxiety, those suffering from addiction are recommended to visit a psychiatrist to be diagnosed with any comorbid conditions. This will be a boon to entering recovery as issues such as general anxiety disorder, depression, or other mood-related disorders can potentiate addiction triggers or maladaptive coping mechanisms.
Being able to medicate those issues properly can go a long way in creating the necessary mental clarity and insight to aid the patient in achieving wellness.
Why Choose Southeast Addiction Center Atlanta, GA?
Southeast Addiction Center Atlanta's individualized therapy focuses on each client's needs. We listen to each client's concerns and medical assessment results. From there, our therapists develop specialized programs, services, and goals for each individual.
The experience of our PHP rehab team is among the top in the Southeast. We provide ourselves on offering care that feels like home. Our facility provides a stable living space with accommodating amenities for our client's comfort.
At our PHP rehab near Atlanta, GA, you can expect the following:
TV and Wi-Fi in your room
Options for streaming shows and movies
Comfortable beds topped with cozy down covers
Access to the latest treatments and natural therapies
Luxury, vinyl plank flooring
Catered meals prepared onsite
On-site drinks and snacks
The Next Step after PHP Rehab
Recovery doesn't stop after PHP rehab ends. We offer options that allow you to step down, knowing relapse doesn't have to be inevitable by returning to substance use.
Relapse prevention is a set of techniques our therapists use to prevent our clients from returning to destructive behaviors and thinking. The therapist assists the client with identifying triggers and exchanging them for positive behaviors. The goal for this component of a treatment plan is long-term recovery by preventing addictive behaviors.
12-Step programs provide guiding principles by which to live. The program is similar in format to Alcoholics Anonymous (AA) and Narcotics Anonymous (NA). Our clients learn to take responsibility for their actions while joining a supportive community. This promotes personal growth and relationship stability.
We are Here for You
If you or a loved one is seeking support to end the cycle of addiction, a PHP rehab can help improve your quality of life.
Stopping cold turkey or on your own could lead to severe withdrawal symptoms. These can be difficult and potentially dangerous if not managed properly. Southeast Addiction Center's rehabilitation and treatment options can help with the physical and psychological side effects.
Speaking to one of our caring team members will help you to determine the best action and start recovery. Contact us now by calling 888-981-8263 or emailing info@southeastaddiction.com.
Get the help you need now
We are

Here for you.
If you or a loved one need help, we are available to guide you through every step of your recovery. Call us today and speak with a recovery counselor to get started.